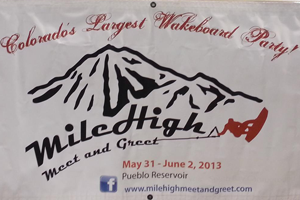 2013 MHMG - it is ON
It is official, we are headed back to Pueblo this year! We will be at Lake Pueblo May 31-June 1. As far as we know, campsites are already sold out. You might get lucky and find one that frees up - Go to Reserve America and roll the dice or post on our Facebook page to see if you can share with someone who isn't full.
This year, our sponsors are being more supportive than ever! While you gear up for warmer (or for the die-hards among us, freezing) weather, please keep them at the forefront of your shopping options.
Thanks to everyone who came out to the Denver Boat Show. We had a blast watching the Broncos game and hanging out with our friends (you). The turnout this year was fantastic. And to everyone who helped out - you are amazing, and we couldn't do it without people like you.
If you haven't found us on Facebook yet, you should to make sure you get the latest announcements about the event. We are looking forward to seeing you all May 31-June 1!